Choosing the right homeschool language arts curriculum is a crucial decision for parents dedicated to providing their children with a solid foundation in communication, critical thinking, and creativity.
In this blog post, we will explore the essential components of an effective homeschool language arts curriculum and review LiteracyPlanet, a popular online resource that claims to offer a comprehensive secular language arts experience.
Table of Contents
Key Components of a Good Homeschool Language Arts Curriculum:
Reading Comprehension:
A robust language arts curriculum should focus on developing strong reading comprehension skills. Look for materials that include a variety of genres, texts of varying complexity, and comprehension exercises that encourage students to analyze and interpret what they read.
Writing Skills:
A well-rounded curriculum should emphasize both creative and analytical writing. Students should have opportunities to express their thoughts through essays, creative writing exercises, and structured assignments that teach the fundamentals of grammar, punctuation, and sentence structure.
Grammar and Vocabulary:
A good language arts curriculum must include a thorough study of grammar rules and vocabulary building. Interactive and engaging exercises can help students grasp language conventions while expanding their vocabulary.
Spelling and Phonics:
A solid foundation in spelling and phonics is essential for effective communication. Choose a curriculum that incorporates systematic phonics instruction and spelling practice to enhance both reading and writing skills.
Critical Thinking and Analysis:
A high-quality language arts curriculum should stimulate critical thinking and analysis. Incorporate activities that require students to evaluate information, make connections between texts, and express their opinions in a thoughtful manner.
Literary Exploration:
Exposure to diverse literature is key to fostering a love for reading. A curriculum should include a mix of classic and contemporary literature, encouraging students to explore various cultures, perspectives, and writing styles.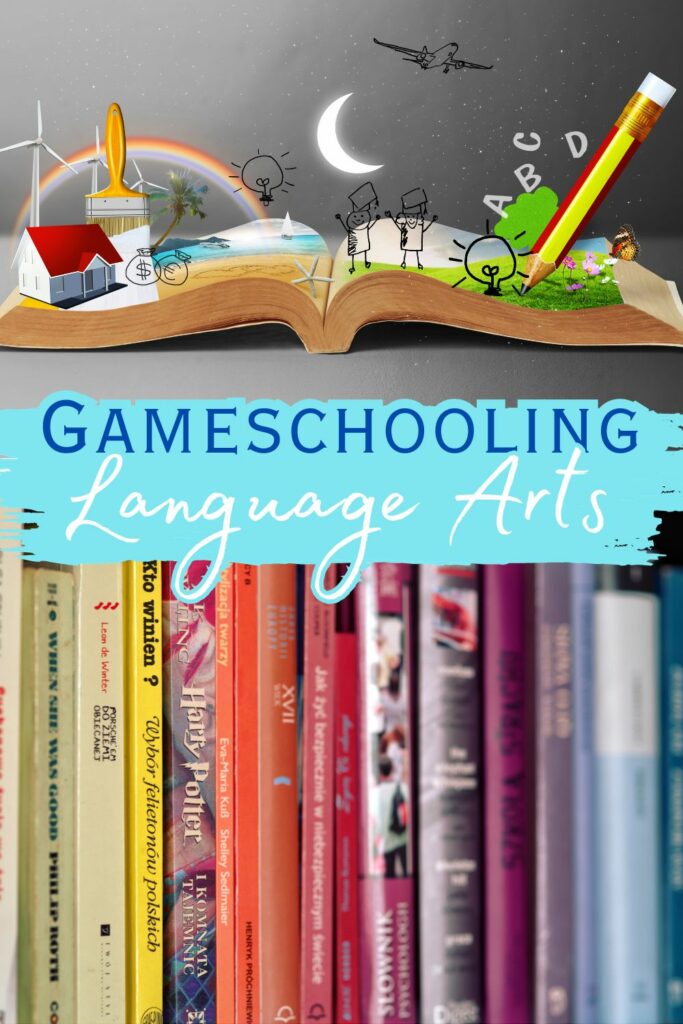 LiteracyPlanet Review for Homeschool Language Arts
LiteracyPlanet has gained recognition as a fun and engaging homeschool language arts curriculum for children aged 8-15 due to several standout features designed to captivate young learners. I originally saw LiteracyPlanet shared in one of my homeschool groups from a mom whose kids were struggling with language arts.
Since I always like mixing things up and adding in different elements, I decided to give LiteracyPlanet a try with my 3rd grader. She loved it so much that I asked my 6th grader if he'd like to give it a go.
Now, they both LOVE LiteracyPlanet and don't complain when it's time for language arts in our homeschooling day. They only need to spend about 20 minutes per day on the platform, but both of them will spend upwards of 30 minutes playing the games and finishing up what they're reading for the day.
Key Aspects I Love About LiteracyPlanet:
Interactive Learning Environment

LiteracyPlanet leverages interactive elements to make learning enjoyable for students.
Through games, quizzes, and other interactive activities, the platform turns language arts lessons into engaging experiences, capturing the attention and interest of young learners.

Adaptive Instruction

One of the strengths of LiteracyPlanet is its adaptive nature.
The curriculum tailors lessons and exercises based on the individual progress of each student.
This ensures that children receive instruction at an appropriate level, preventing frustration and boredom while challenging them to continuously improve.

Rich Multimedia Content

The platform incorporates a variety of multimedia elements, including videos, animations, and colorful graphics.
This multimedia-rich approach appeals to the visual and auditory preferences of young learners, making the learning experience more dynamic and stimulating.

Gamified Elements

LiteracyPlanet integrates gamification elements into its curriculum, turning language arts into a playful experience.
You know I'm a HUGE proponent for gameschooling! Make sure you check out Gameschooling: A Comprehensive Guide to learn about all of the benefits when you incorporate gameschooling in your homeschool.
Points, rewards, and progress tracking create a sense of achievement, motivating students to actively participate and complete lessons.

Diverse Range of Activities

The platform offers a wide range of activities that cater to different learning styles.
From writing prompts and storytelling exercises to grammar games and comprehension quizzes, LiteracyPlanet ensures that there is something for every student, keeping the curriculum diverse and engaging.

Instant Feedback and Rewards

Immediate feedback is crucial for effective learning.
LiteracyPlanet provides instant feedback on exercises and assessments, allowing students to learn from their mistakes and reinforce correct answers.
Positive reinforcement through rewards and recognition further encourages students to stay motivated and engaged.

Customizable Learning Paths

Recognizing that each student learns at their own pace, LiteracyPlanet allows for customizable learning paths.
Parents and teachers can adjust the curriculum to meet the specific needs and interests of each child, promoting a personalized learning experience.

Accessibility Across Devices

With the flexibility to access the platform from various devices, including computers, tablets, and smartphones, LiteracyPlanet accommodates different learning environments.
This accessibility allows students to engage with the curriculum in a way that suits their preferences and fits into their daily routines.

Progress Tracking for Parents and Educators

Parents and educators can monitor the progress of their students through the platform.
Real-time tracking of achievements, completed lessons, and areas that may need improvement enables adults to provide targeted support and encouragement.
LiteracyPlanet FAQs
Is LiteracyPlanet a secular curriculum?
Yes. LiteracyPlanet is a general literacy and language arts platform that does not promote or emphasize any specific religious content. It is designed to be a comprehensive language arts curriculum for homeschool students.
What subjects does LiteracyPlanet cover?
LiteracyPlanet primarily focuses on literacy and language arts, offering a comprehensive curriculum that covers various aspects of reading, writing, grammar, and related skills.
Can I track my child's progress on LiteracyPlanet?
Yes, LiteracyPlanet provides features that allow parents and educators to track a child's progress on the platform. These instructor dashboards tools offer valuable insights into a student's performance, strengths, and areas that may need additional attention
How much does LiteracyPlanet cost?
At the time of publishing, LiteracyPlanet's ProPlan is just $19.99 per year per student. In comparison to other comprehensive language arts curriculums for homeschoolers, this is a fantastic price. Use this link to try LiteracyPlanet free for 30 days!
In summary, LiteracyPlanet stands out as a fun and engaging homeschool language arts curriculum for children aged 8-15 due to its interactive, adaptive, and gamified approach.
By combining effective educational content with elements that appeal to the interests and preferences of young learners, the platform successfully transforms language arts into an enjoyable and enriching learning journey.