In the present landscape of education, there is a growing focus on the significance of being multilingual. Besides the commonly taught languages like Spanish, French, or Mandarin, there exists a language carrying substantial cognitive, cultural, and societal importance: American Sign Language (ASL).
For those guiding the homeschooling journey for their children, incorporating an ASL Curriculum for Homeschoolers offers a plethora of advantages!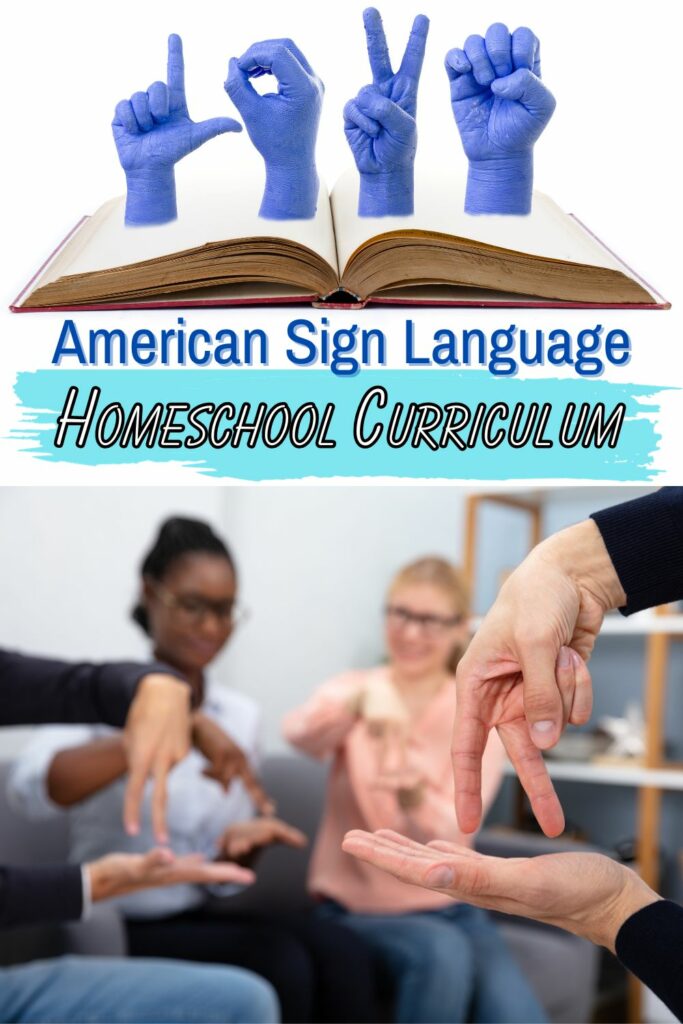 I'm thrilled to collaborate with Mr. D Math in spreading awareness about ASL within our homeschooling community. My children have been expressing their interest in a comprehensive ASL program, so when I was given the chance to assess Mr. D Math's ASL 1, I immediately seized the opportunity. While I received compensation for my participation, all viewpoints expressed are solely my own.
A couple of years ago, I decided to enroll my children (aged 8 & 11) in a homeschool-focused sign language course offered at our local library. The experience was incredibly positive, as my kids not only thoroughly enjoyed the class but also developed a genuine passion for learning sign language. Remarkably, even after more than 2 years have passed, they continue to incorporate many of the signs they acquired during those sessions.
Every year I ask my kids, "What would you like to explore next?" Their consistent response has been, "We want to do sign language again!"
Regrettably, our sign language instructor relocated, leaving me without the option to find a suitable replacement class for my children.
Additionally, if we are going to include sign language as a cornerstone of our homeschooling curriculum, I am determined to select a comprehensive program that offers more than just casual sign learning moments.
Ultimately, my aspiration is to secure a complete American Sign Language curriculum that will ensure their proficiency in ASL.
So that's why I jumped at the chance to check out Mr. D Math's ASL1.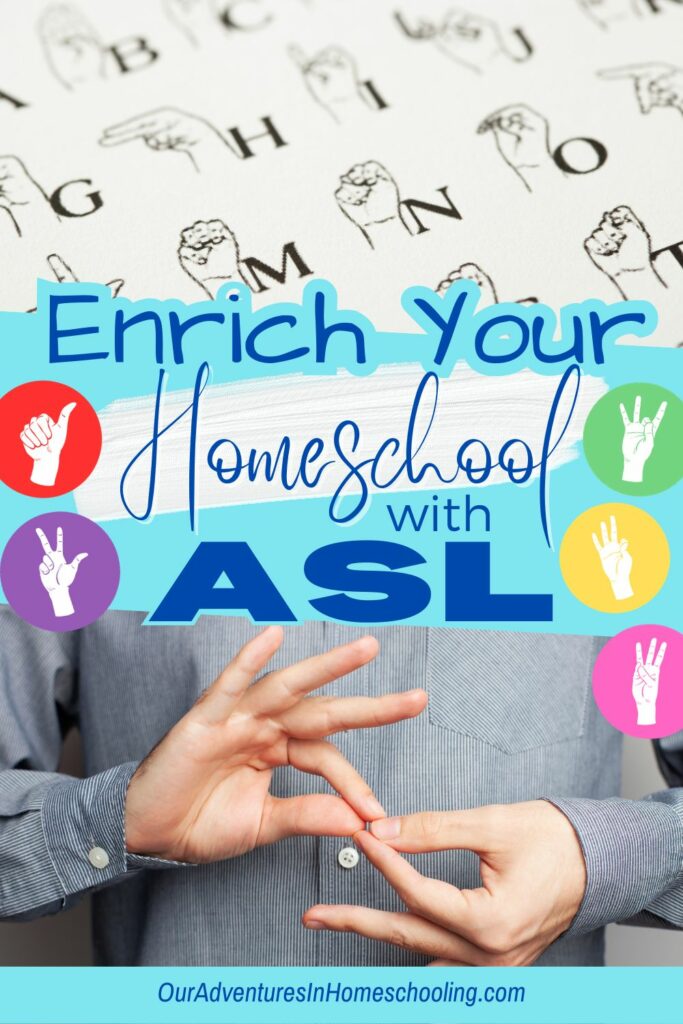 By the way… were you aware that Mr. D Math has an array of offerings beyond mathematics?
I was truly amazed by the diverse selection of extracurricular courses available through Mr. D Math. In fact, Mr. D Math provides a complete series of all three levels of ASL, enabling your student to achieve fluency in American Sign Language.
Mr. D Math's homeschool curriculum is thoughtfully structured, guaranteeing students a comprehensive and systematic introduction to ASL.
Despite this structured approach, there remains a built-in flexibility that accommodates the varying rhythms of homeschooling.
All the classes are accessible On Demand, allowing students to progress at their individual pace. In the case of my children, they swiftly moved through Lesson 1 and were eager to dive into Lesson 2 within a single day. Nevertheless, we also have the option to extend the lessons to cover the span of an entire year.
Thia, the instructor, conducts live sessions throughout the month, offering students the chance to participate in real-time interactions if they prefer.
Recognizing the diverse needs of learners, Mr. D Math's ASL curriculum for homeschoolers is enriched with an array of multimedia resources. In conjunction with the On Demand classes, Thia shares brief yet informative clips demonstrating individual signs. Additionally, she orchestrates regular live sessions, inviting students to partake and learn directly from her in real time.
This week, my daughter was enthralled by the live session dedicated to signing the song "How Far I'll Go" from Disney's Moana. It's through activities like singing and signing together that the concepts truly solidify!
What truly distinguishes Mr. D Math's ASL curriculum is its profound emphasis on real-world application. The students are not only acquiring signs; they are mastering effective communication for practical situations, thereby enhancing both their self-assurance and proficiency.
The curriculum places considerable focus on the nuances of facial expressions and body language that accompany the art of signing.
Beyond being a mere language course, Mr. D Math delves deeply into the realm of Deaf culture. This grants students a holistic comprehension of the history, challenges, and contributions of the Deaf community.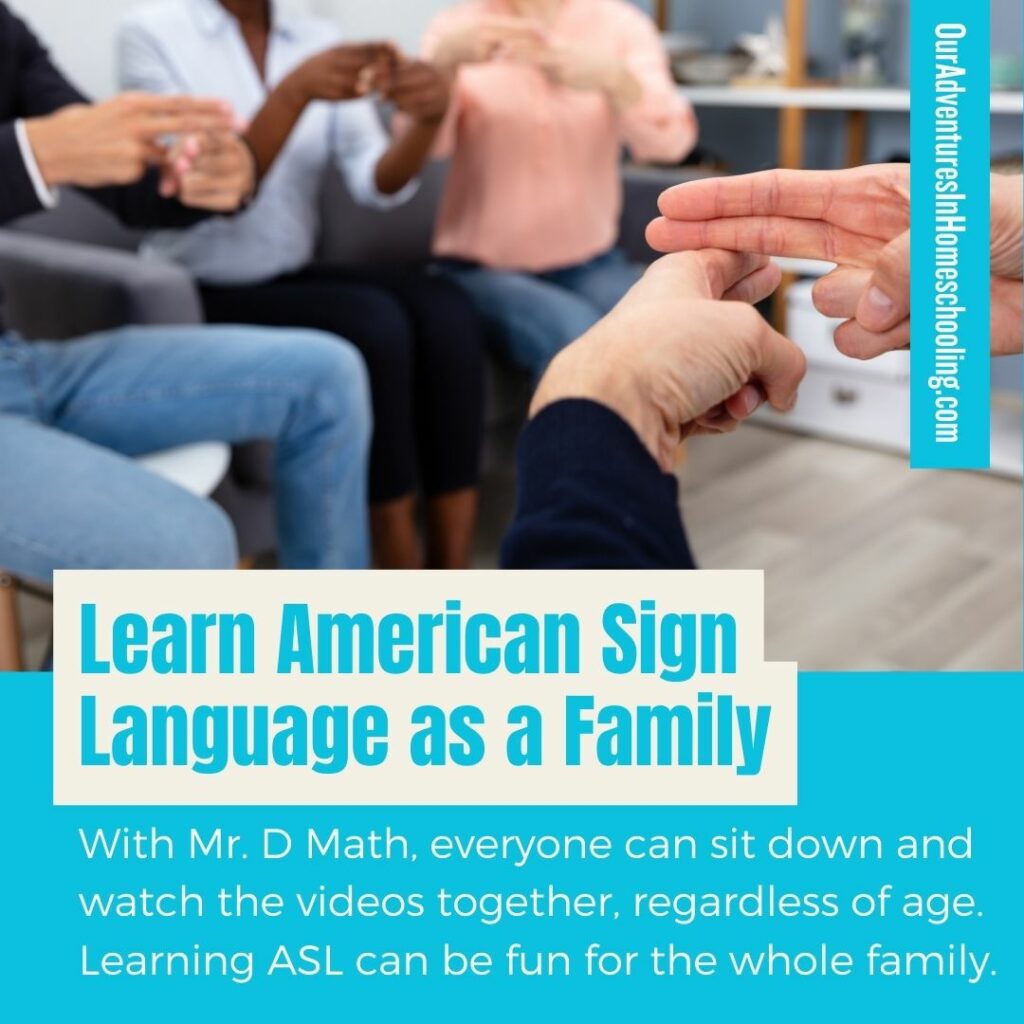 In fact, we've recently discovered that an upcoming Live session will feature two special guests from the Deaf community, sharing their remarkable experiences as the first Deaf woman and first Deaf American to conquer Mount Everest.
While ASL can be intricate, Mr. D Math's ASL homeschool curriculum is meticulously crafted to accommodate learners of all ages.
The lessons are meticulously divided into easily digestible segments, ensuring that concepts are comprehensible for students of every age.
This curriculum engages the entire family! Both my 6th grader and 3rd grader can effortlessly follow along. And I have to admit, I'm in there taking the classes right along with them too!